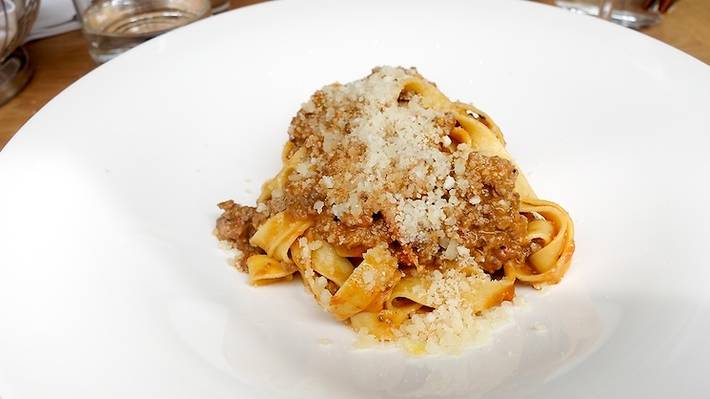 Refined takes on simple, traditional Italian dishes work wonders at Giovanni Passerini's latest gastro trattoria.
Parisian aficionados of acclaimed chef Giovanni Passerini have had to wait two years to get their fill of his fine, relaxed, straightforward Italian cooking, after his previous outpost Rino was shuttered in 2014. His new address has certainly been worth the wait, though, and is already booking up weeks in advance.
Sharing premises with Pastificio, a fresh pasta shop run by Passerini and his wife Justine, the Restaurant Passerini welcomes diners in a spacious main room, equipped with large bar counter and stylish open kitchen, in which the broad-shouldered chef toils away with his carefully appointed team. This time, his menu focuses on simple, traditional Italian dishes, with a short menu of two starters, two pasta dishes, a main and a dessert available every day for lunch.
When we go, main dishes include a heady grilled veal tongue with marimba tomatoes, stracciatella (creamy mozzarella) and anchovies, and a comforting plate of fresh tagliatelle served with duck ragout, while the evening menu features plates of duckling and pigeon, as well as various fish dishes. A brilliant French and Italian wine menu compiled by sommelière Cécile Massé (also ex-Rino) allows each dish to flow seamlessly into the next, while a ricotta and strawberry tart accompanied by a rhubarb sorbet brings our meal to a delightful close.